THE WILMINGTON
CHALK MAN
The 'Long Man of Wilmington' is a famous pre Saxon Chalk Figure carved out of the grassy hillside between Wilmington and Lewes and has been a focus of interest in paganism and the supernatural for hundreds of years.
Bigger even than the more famous Cerne Abbas Giant near Dorchester, the Long Man of Wilmington is also supposed to have been a Sun God.
Marabas has conjectured that the two poles he is shown holding, are in fact ancient implements for tracking the sun's shadow used originally for marking out stone circles.
The Long Man is a local tourist attraction but also features as a motif and source of hysteria in this special report, The Lewes Satanic Death Curse.
Thinking of Tracing the Events in The Lewes Satanic Death Curse Mystery?
Lewes, the historic county town of East Sussex, is a mixture of the impressive, the unusual and the intriguing. Situated on the banks of the river Ouse and surrounded by the South Downs, Lewes is a picturesque town steeped in history.
Initially a Saxon village, the Norman built Lewes Castle still dominates the townscape. Adjacent to the Castle is the Barbican House Museum and just a short walk through Southover Grange Gardens is the beautiful 15th century timber-framed Anne of Cleves House and the remains of the Lewes Priory.
There are many places to visit in Lewes, so take the time to meander through the mediaeval heart of the town with its twisting streets and tiny twittens exploring the towns rich heritage. With a great range of independent shopping, antique centres, art galleries and a tempting variety of local eateries and restaurants on offer its a great place to visit for the day or a longer stay. Lewes is also home to the famous Harvey's Brewery, which was established over 200 years ago. Sample one of their fine ales in many of the local pubs or visit their shop to take a souvenir home with you.
You will find a great range of hotels and bed & breakfasts in Lewes offering a wide range of accommodation for all tastes and budgets. Coincide your visit to Lewes with one of the many events that take place including Lewes Farmers' Market, held on the first Saturday of each month, Lewes Bonfire celebrations, Artwave Open Studios Festival or the nearby Glynebourne Opera.
Lewes is also a convenient base for exploring the South Downs, Brighton and Eastbourne. For further information about visiting Lewes contact: Lewes Tourist Information Centre
Simple Street Map of Lewes, Sussex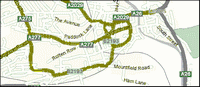 Another Exclusive Item From the S.A.- this publication is not available anywhere else
GUARDIAN SATANIC DEATH CURSE REPORT

---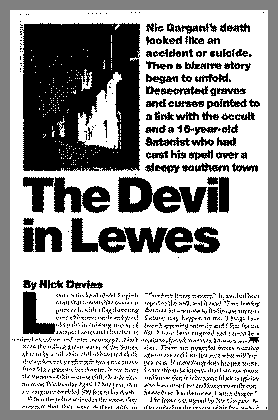 Was Nick Gargani hounded to his death by Satanists in Lewes?
He fell 300 feet to his death. Was he, as the Guardian implied, frantically trying to escape demons who were hunting him down?
Or was poor Nick Gargani driven to throw himself from the white cliffs in order to escape the thrall of a Satanic Temple which controls this sleepy British seaside town?
These are the scenarios the Guardian newspaper presented to its readers in a four page special feature written by Nick Davies of Flat Earth News fame, but is Lewes really a centre of Satanic Activity and how did the Sorcerer's Apprentice® bookshop become involved? Does a Secret Satanic Temple exist there and have they, as the Guardian reported, actually sacrificed Cats, Goats, Sheep and Horses to the Devil at local ancient sacred sites ? This tale sounds like some Hammer-Horror film script, but it is not fiction! The true story takes some believing and is required reading for any occultist, satanist, pagan, wiccan, anthropologist or student of apocryphal rumour.
In a four-page special-feature, millions of readers of the normally highly respected Guardian Newspaper were told that a Satanic Murder could have taken place in Lewes, Sussex. They were regaled with a complex 'whodunit' of mysterious evidence that Nick Gargani's terrible death was the result of foul play by sinister people. The incidents surrounding the fate of Nick Gargani were so convoluted that the coroner recorded an open verdict at the inquest, but when we looked behind the detailed accusations the truth was even more bizarre but completely different to how the Guardian had it. Learn how an anti-occult myth was created by supposedly honourable mainstream journalists.

Is there a cover up and if so why would the Guardian, historical bastion of liberalism in the U.K., perpetrate such prejudice?
Will the Guardian's DEVIL IN LEWES article be enshrined in history as yet another 'Satanic Murder'?
Without the amazing insider information and unique research in
LEWES SATANIC DEATH CURSE - ANATOMY OF A MODERN MYTH
you will never know. But this report carries an even more pertinent message for liberal people in Lewes - and everywhere else. You may not live in Sussex, but wherever you live you need to know the truth about THE LEWES SATANIC DEATH CURSE and the technical details of how it happened, because it is the prototype of cases which will be happening near you soon!
Read this insidious form of mind-control and keep your options open. Sooner or later it may happen in your own back yard and segregating the truth from the lies might be the only thing which will enable you to protect your beliefs from attack. You can't find that truth anywhere else but in this special report. Like a modern true-life detective story the revelation of the development of the Lewes Satanic Death Curse makes riveting reading. Do not miss this influential document.
THE LEWES SATANIC DEATH CURSE IS NOW AVAILABLE IN DIGITAL FORMAT FOR INSTANT DOWNLOAD: You can be reading it in minutes.

Click on the cyberbook buy-now buttons below to pay with your card and you can download this unique expose straightaway then just click on the file to open up and you can print out this unique report or read it on your screen.

Download guaranteed successful and virus free. Download right now in the background whilst you surf OR use the link given when you buy which is active for 24 hours for you to download at your leisure later on. We guarantee the continuing safety of your cyberbook files and will replace any you accidentally erase no matter how long you've had them.

Worldwide Price to Download The Lewes Satanic Death Curse is £4.95

DISCLAIMER: Along with five billion other souls on this planet we believe in Transmogrification (magic), and Transubstantiation (life in spirit). About 85% of the world's population believe in the world of spirit. Only 7% of the world's population are atheists (scientific materialists) but these few people have a disproportionate influence over the way we live because the government relies heavily on these Scientific Soothsayers of the State to provide justification for their decisions. This disclaimer is to comply with the prejudiced demands of this lobby and should be seen as such. When we infer on these webpages that something is successful for a particular purpose we mean that traditionally it has been held by sages to be successful for that purpose or/and that historically it is reputed to work in a novel, legendary or peculiar way to succeed with that purpose, or/and that people alive today have tried and recommended the item as being successful or helping to a lesser or greater degree for that purpose and therefore it may be worth trying. In most instances we will have tested, experienced and confirmed the effects ourselves but we freely admit that these items may not work in every instance or may work in lesser ways than the examples quoted. We offer them out for historic and curiosity value only as untested objects of pleasance. All use and application of these items and information should be seen as experimental. Magical effects cannot be proven nor guaranteed. We have personally used and sold items like these for over three decades and our experience is positive - however in order to make an informed choice you should be aware that science disagrees about the existence of magical forces and effects and insists that other mundane actors will be working to cause the success experienced if any. Intending purchasers should carefully read our full Duty of Care Statement of Intent on http://www.sorcerers-apprentice.co.uk/naivecust.htm
REASONABLE RISK: Advice; Personal Consultations; Recommendations for Applications: Marabas has an unparalleled grasp of esoteric methods worldwide but he is not a god - he cannot indemnify customers from risk. Only you know your exact circumstances, your medical history, state of health and the progression of the problem so far. Only you can judge whether it is in your interests to apply magic in your life. If you ask us how a magician might resolve a problem then Marabas will tell you but in our eyes magic is a force used to modify the course of destiny and can cause peripheral changes which are not anticipated therefore all magical operations are by qualification inherently experimental. Our products are genuine, contain proper materials and most importantly are designed with adept knowledge of magical method. You cannot get a better chance of successfully experimenting with magic but be under no illusion - it is an experiment undertaken entirely at your own risk. The S.A. offers raw materials and literature for curiosity's sake only. Marabas's historical knowledge is given if asked. Under present law Marabas cannot 'prescribe' magical actions or cures; we suggest only what an adept might do in your place. To recapitulate: We are not selling you the magic 'cure', though it may very well turn out that way. We are providing the opportunity to experiment with genuine magical methods to open up new doors in your life. We can tell you how others have changed their lives and how you might choose to do it for yourself but you are responsible for your own experiments. We cannot indemnify people from the repercussions of foolishness but we will sincerely do everything we can to ensure your genuine success and this will be the limit of our liability. Marabas's suggestions will always comply with U.K. law but if you are unsure whether a suggestion might breach local laws or regulations then you should consult your legal advisor before ordering. Clients must be cognizant that all Magic and ritual work is experimental and therefore undertaken by them at their own inception and at their own risk. We provide all reasonable warnings and protections for our clients but cannot be held responsible for applications of their own invention of which we are uninformed. We will readily offer our opinion on the advisability of proposed applications of our products without charge. We expect the typical customer to be reasonably fit and healthy. If you are significantly unwell, subject to allergies, are taking a course of treatment, are pregnant, a registered drug addict, have a history of chronic ailments or are undergoing psychiatric help then it is your responsibility to clear your intentions with your doctor and alert us before you embark upon a purchase. .