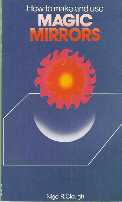 How to Make & Use
MAGIC MIRRORS
In this book Master Magician Nigel Clough
shows how to use Magic Mirrors:



As a Psychic Shield,
As a Doorway to Astral Travel ,
For Psychic Healing,
As a Telescopic Eye
and more.....


Enshrined within the folk-legends of many cultures is the symbol of an all-seeing, all truthful magic eye which can transcend time and space. This has its origins in the mists of time and has given rise to folk-tales such as Sleeping Beauty where the idea of A Wise Woman employing a magic mirror to see things happening elsewhere was misrepresented as the machinations of a wicked step-mother...
Few people realise just how accurate these legends are. Witches and Magicians have traditionally used Magic Mirrors to make powerful magic and now at last, the secrets of how they manufacture their mirrors using a step by step process which anyone can do at home, have been published in this amazing handbook. HOW TO MAKE & USE MAGIC MIRRORS by Nigel Clough is a treasure house of practical advice and Mirror lore presented in a way beginners can easily understand and apply: Just look at some of the contents.
Preparing simple magical Accumulators, & Mirror coatings.
Constructing Magic Mirrors using Pollyfilla / plaster / glassfibre / papier mache and other materials.
Converting ordinary Flat Mirrors to Magic Mirrors.
Liquid Mirrors & other types of 'ready made' Mirrors .
How to generate Elemental Fluid & load it into the Mirror,
Methods to conjour magnetic fluids in the Mirror.
Exercises to develop your psychic and magical potential with the Mirror.
How to use the Mirror as a Gateway for Astral Travelling.
How to use the mirror to visit the Planetary Spheres
Using the Mirror to project Psychic Healing energy
How to use the Mirror for Telepathy and to project thought.
Evoking entities and intelligences through the Mirror
Using the Mirror for continuous Psychic Protection
Using the Mirror to powerfully charge talismans.
Over 60 pages of really excellent initiated info. Never before, we believe, has so much valuable information on genuine Magic Mirrors been made available. Now long out of print and not available anywhere else the S.A. is offering the last few copies of this most sought-after book on a first-come first served basis at just £4.95 including post whilst stocks last. Order now for by return despatch.

*Last few copies, all brand-new, intact and readable at the remarkable price of just £4.95 including p&p. Be Quick - add your copy to your shopping basket by clicking the respective buy-now button below and make sure you garner these superb magical techniques before it becomes unobtainable.

Provided for research, worship and entertainment value only. In this context 'secret' means 'known only to a very few'. Descriptions are lyricised to convey similitude and are not a guarantee of supernatural effects.